Generating multiple documents from a single form is now possible. Form Publisher will create each file for the different templates. Please read this tutorial to learn more about this feature.
stars
Goal
You can now link multiple templates to Form Publisher and generate different files for each template, from each form submission. This is useful if for example, you want to send both an invitation to an event, and an invoice.
Each template will have its own Form Publisher settings. For example, you can send the generated documents to different email addresses (invitation to the guests, invoice to the person who bought the event for a colleague), with different permissions etc. 
This tutorial will show you how to use this feature with Form Publisher.
What you'll learn
In this tutorial, you will learn how to automatically generate multiple files (an invitation to an event, and the associated invoice) with Form Publisher from a single Google Form: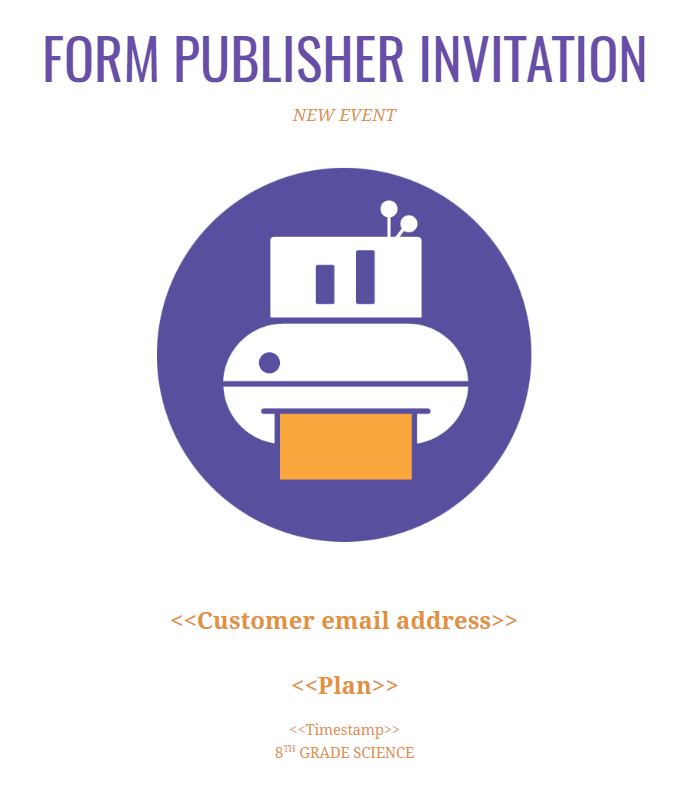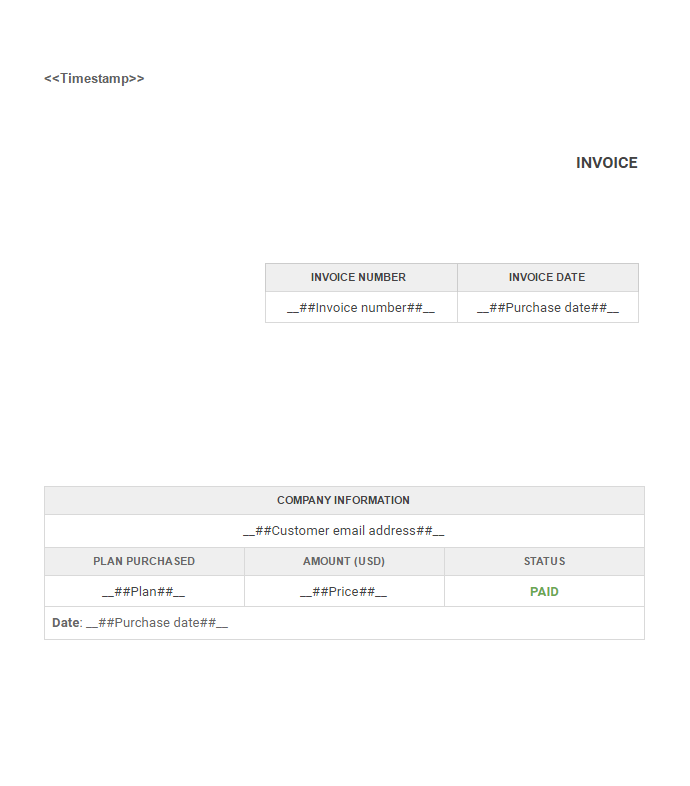 timelapse
Time to complete
Between 5 min & 10 min to set up if all your templates are already created. Otherwise it depends on the complexity of the templates you wish to use.
check_circle
Prerequisites
Just configure Form Publisher as you like with your first template (or open a form with Form Publisher already configured).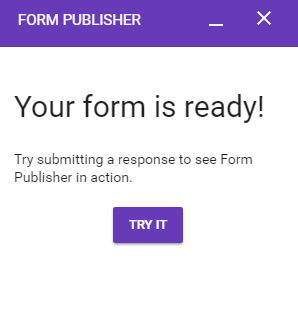 mode_edit
Running a simple example
In our example, we will show you how to configure an invoice generator for an event, with an invite generator. So we will use the 'Demo' of Form Publisher with simple modifications of the template: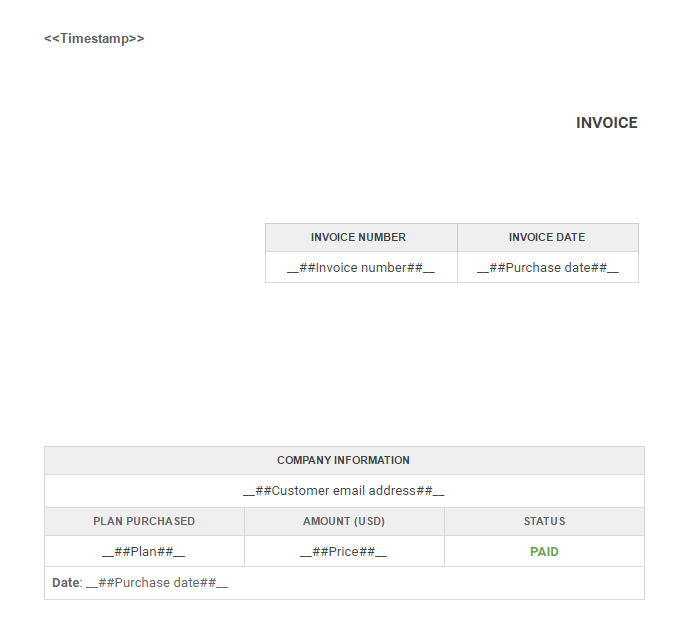 1. Add a new template to your current Google Form
After completing the last step of the original configuration, open the add-on menu, select Form Publisher and open the new menu 'Add new template':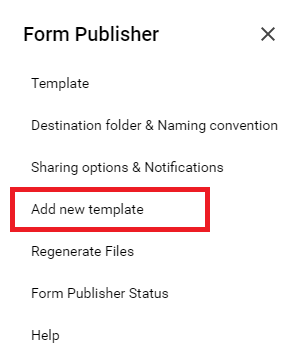 warning
Note that once you've set up this feature on your form, the menu will change to: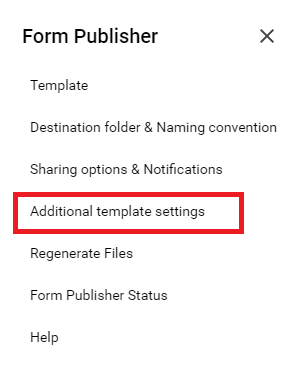 2. Automatically forward the current form data to a new one
A sidebar will open. Start configure your new template by clicking 'GET STARTED':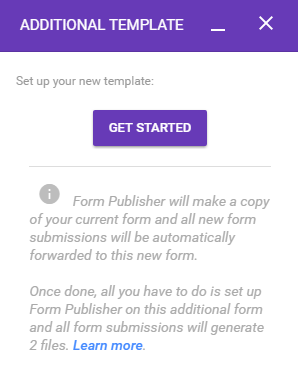 Form Publisher will then duplicate this current Google Form into a new one, with the exact same questions.
Note: If you have added a 'File Upload' item in your original form, it will be replaced by a 'Test' field in the duplicated form. This is necessary to make the File Upload button work on the duplicated form.
Once duplicated, the copy will be automatically linked to your current form. So each time someone submits the original form, data will be forwarded to the copy. 
3. Configure your new template
Keep the option to "Create both template" to generate both document on each submission, if you want to learn more about conditional templates, go to this article.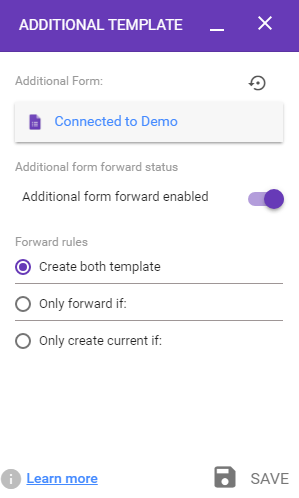 Then open the newly created form by clicking the link in the sidebar (in our example, 'Connected to Demo') to start configure the second template.
4. Configure Form Publisher for the second template
Once your on this form configure Form Publisher with your new template. You can set up Form Publisher with any settings you want. So both document can be send to different email addresses etc... 
5. Add a third or more templates if needed (optional)
In our example, we only add a new template to our Google Form. But it is totally possible to use this feature on the new form and add another template. So you can generate three different documents from three templates (or even more) just by repeating this operation on each new Google Form.
publish
Testing the example
If John Doe books a place for the event, he will fill the form as follows: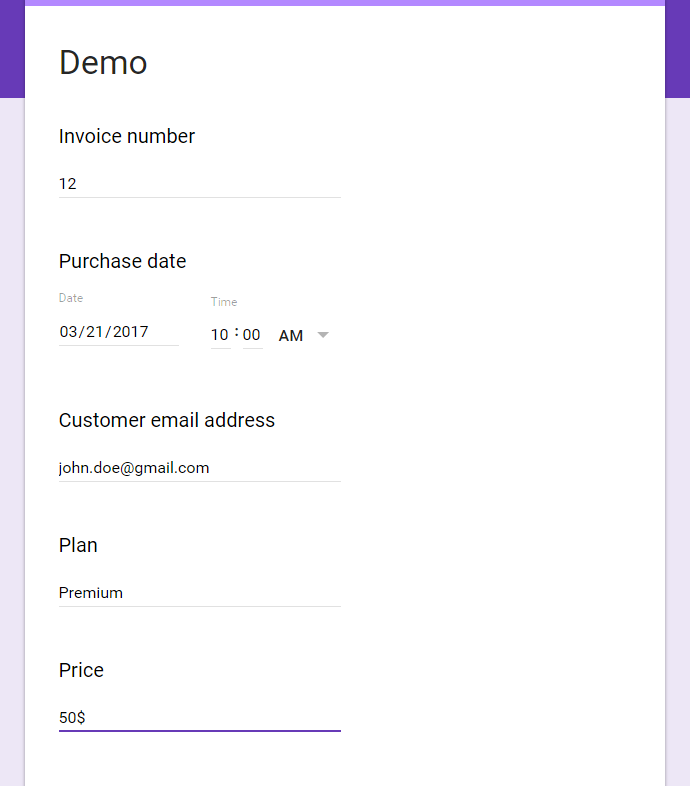 Form Publisher will then generate our files in PDF format, meaning the invoice and the invitation: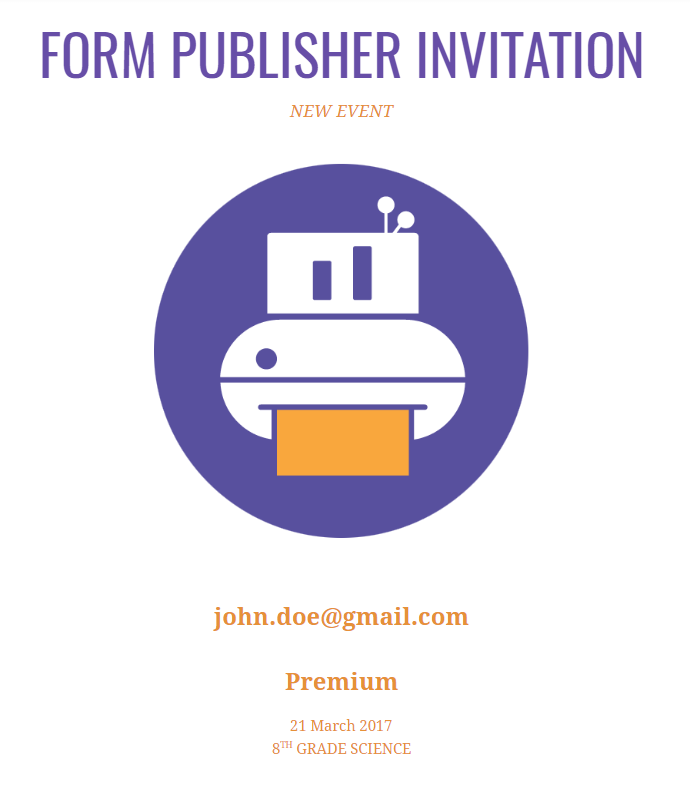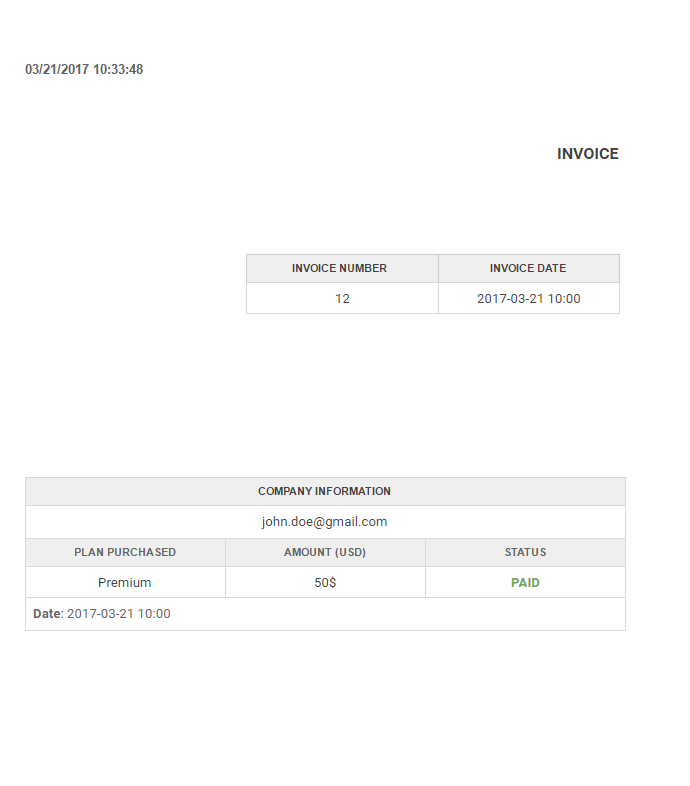 IMPORTANT: Information on your quota
warning For one single form submission by your respondent (on the original form), Form Publisher will generate as many documents as the number of templates you have set up.
In the end,
your free quota will be reduced by the number of files generated,

even if the respondent submits only one form
. So if you have two templates, Form Publisher will generate two files, reducing your free quota by 2.