You have purchased a Form Publisher license to get an unlimited quota, but you are still limited to the free version. That is a common issue and can be solved very easily by our Support Team. Please read this article to know what to do in this case.
Why is my license not activated?
That means we haven't whitelisted the right Google account. Maybe you have purchased a paid plan for an alias, or the account contained spelling mistakes.
Besides, you might think that two similar addresses are the same. That is not true: Any difference (even the slightest, even if it's only one letter) counts. Here are the most common mistakes that people do:
An account ending with .org (for example) is not the same as .com, .net, .gov etc.
gmail.com is not the same as googlemail.com
abc@example.com is not the same as abc.def@example.com
xyz@gsuiteaccount.com is not the same as xyz@gmail.com
What should I do to get my paid plan activated?
Open a Google Form and check the email address in the top right corner of the screen, (just click on your Google profile picture).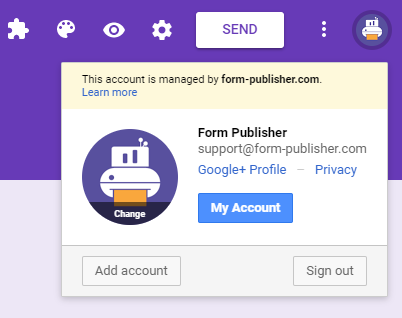 Submit a request to our customer support:
In your email, please indicate clearly:
The wrong Google account: The one which is currently under the paid plan
To avoid any confusion, please provide the invoice and/or purchase confirmation from From Publisher.
The right Google account: The one which should benefit from the paid plan