Once you configured your template, you will now have to define the title for each file created, and where these files will be saved.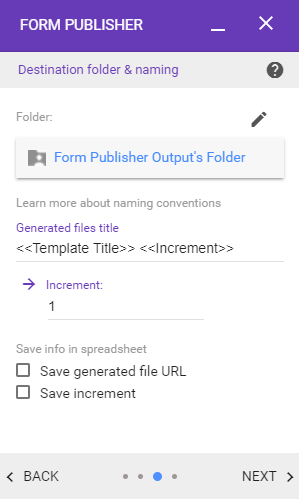 Open you current output folder
Form Publisher automatically creates your output Folder at the same place as the Google Form in your Drive.
You can click on the name of your output folder to open it.

Change your output folder
You can change your output folder by selecting another one in the Google Picker.

Choose a name for your files
Form Publisher lets you configure your files name. Every time a new file is created, it will be named following your instructions. You can use markers and simple text in the title of the file.
You can also change the start number of your increment:

Advanced configurationkeyboard_arrow_up
Spreadsheet options
You can also add information in your response spreadsheet for each file. You can save the URL of the file in the spreadsheet or/and the increment number (learn more).

Sharing options and notification 
You can go the next article once you're done with the title convention: Sharing options