For the last step, you just have to choose who will receive each document created by Form Publisher.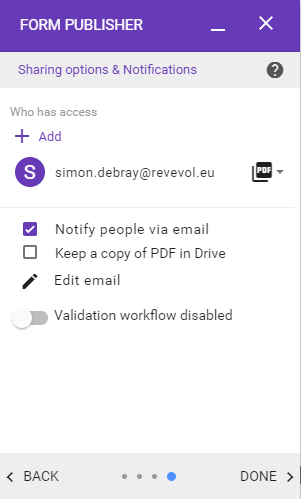 Add a receiver
You can add a receiver by clicking on '+ Add', filling an email address and then validate this new receiver by clicking on 'ADD'.

You can also use a marker from a question in your Form that asks the respondent to fill in an email address. That way, the file will be sent dynamically based on the answer of the respondent (learn more).
Edit the type of file
You can change the type of file that will be shared to every email address that you decide to notify. You can also remove them.

Additional options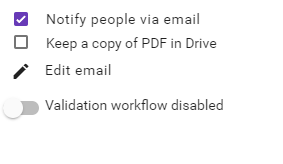 Email notification
You can enable or disable the email notification, if you only want to share the file through Google Drive without sending an email.

Save a pdf
You can decide to save each file in a .pdf format inside your output folder in addition to the basic Google File.

Edit email
You also have the possibility to personalize the email notification sent to each receiver (learn more).

Validation workflow
Finally you can activate the validation workflow through that sidebar (learn more).

Test your form
Well done, you have completed Form Publisher set up! You can now test it: Test Form Publisher.