Finally, you can test your set up.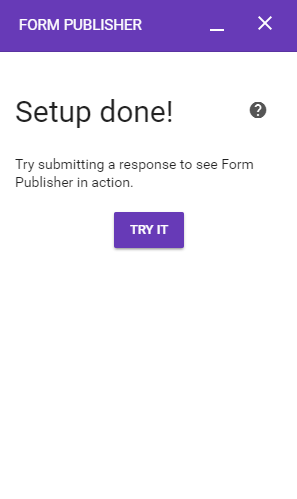 Submit your Google Form
To submit your Form, you have to open it in the viewer version, to do so you can click on the link in Form Publisher sidebar or on the "eye" icon in the top menu.
Then just enter random fake answer and submit to test Form Publisher.
Check the results
You can check the result of Form Publisher action in different ways depending on how you configure it.
In the email address you configured
If you have added email recipient for the file, you can check those email address to see the result.
In your output folder
You can open your output folder in your Google Drive to check the result of Form Publisher.
In the Google Spreadsheet
If you have activated the spreadsheet where Google saves all the result from the Google Form, and if you decided to save the URL of the file in Form Publisher (see in this article), you can open the spreadsheet to see the result of Form Publisher.