Why doesn't Form Publisher write the URLs in your responses spreadsheet?
If you received an email informing that Form Publisher failed to write in your spreadsheet, it might be because of the following reasons:
You have added another row before the first one that contains headers that are automatically created by Form Publisher
You have changed the names of your headers (questions, timestamp)
You have several tabs in your responses spreadsheet, and your responses are not in the first tab
This can cause troubles to Form Publisher, which will stop functioning because the add-on is waiting for the proper information. Specifically, the named ranges from your spreadsheet are not well-defined anymore.
What should you do?
To solve this issue, please follow this tutorial:
1. Open your spreadsheet, then go to Date > the 'Named ranges...'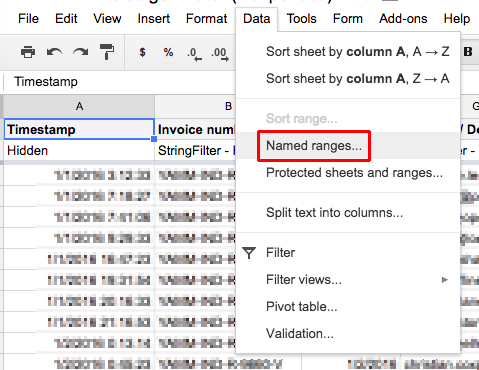 2. Clic on the appropriate cell (the header) and add a new 'Named Ranges' for the columns with these specific names: 
| | |
| --- | --- |
| Name of the column (column header) | Name of the Named Ranges |
| Timestamp | FormPublisherTimestamp[+]FORM_ID |
| [Form Publisher] Increment | FormPublisherIncrement[+]FORM_ID |
| [Form Publisher] PDF URL | FormPublisherPDFURL[+]FORM ID |
| [Form Publisher] Sheets URL | FormPublisherSheetURL[+]FORM_ID |
| [Form Publisher] Docs URL | FormPublisherDocURL[+]FORM_ID |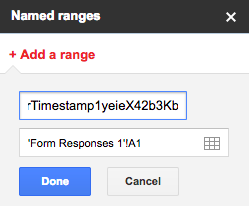 You can find the FORM ID in the URL of the Google Form: https://docs.google.com/forms/d/FORM_ID/edit?usp=drive_web#responses
Important note: You have to remove any dashes (-) in the form ID before copying and pasting it in the Named ranges!
For example, in the following image:

The Form ID is: 1yeieX42b3Kb9OGPodGCevRIaRGv-UmErh_w7JoyZX5I
So the Named ranges for the timestamp is, after removing the dash:
FormPublisherTimestamp1yeieX42b3Kb9OGPodGCevRIaRGvUmErh_w7JoyZX5I