During the Form Publisher configuration, Form Publisher tried to create a new folder to help you organize each file that will be generated. Unfortunately, it couldn't achieve that task.
Why do I get this error?
It seems that your Google Form is what Google calls an orphaned file. Your form has lost all of its parent folders. Therefore, when Form Publisher tries to access your Google Form parent folder, to generate the needed files in the same place as the form, it crashes and displays this error: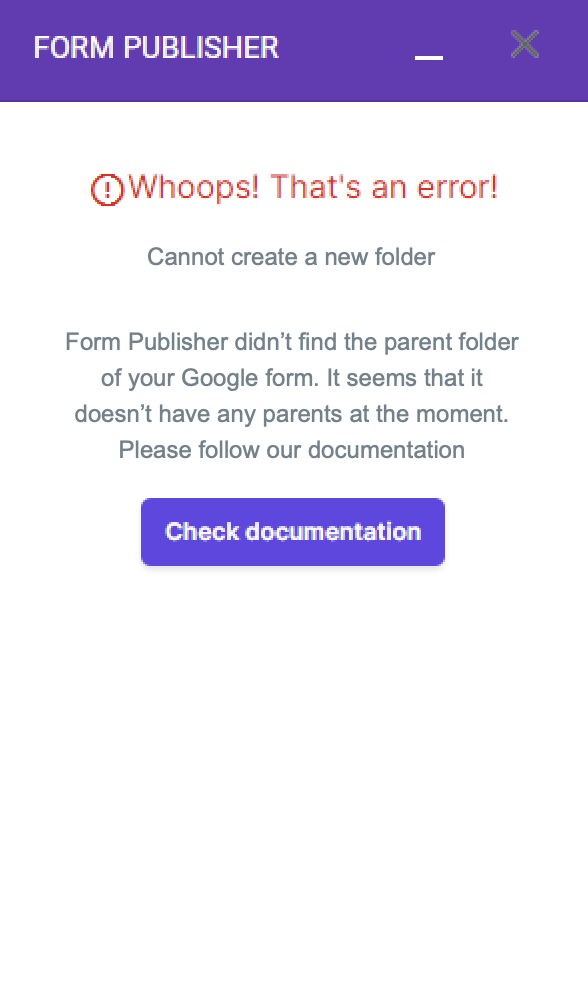 What should I do?
To solve this issue:
- If you can open your Google Form, you have to move it to a new/existing folder in your Google Drive, this will create a new parent to the file, and finally, continue the configuration.
- If you've lost the Google Form, you can follow this article from Google to find your orphaned file.
warning
As a reminder from our
Terms of Use
,
"
Form Publisher is strongly linked to the infrastructure provided by Google
.
Changes by Google on this infrastructure might change the product and the features we can provide."
Please understand that we cannot solve this issue as this is not from the Form Publisher side, but Google
. If the problem persists and occurs many times, the best thing to do is to retry later.