When respondents submit their responses, you want to retrieve their email addresses. With Form Publisher, you can collect email addresses of the respondents after each submission.
Prerequisites
You must have a Google form configured with Form Publisher.
Procedure
In the Google form, click the Settings tab.



Expand the Responses section.



Under the Responses section, enable Collect email addresses.



Google Forms automatically saves your configuration settings.

In the Questions tab, a message appears at the top of your form confirming that Google Form will collect email addresses after each submission.

Result
By default, the form is restricted only to the recipients who belong to the same domain name. If you want to send the form to people outside your domain, you can deselect the Restrict to users… checkbox in the Google form settings.



A required Email question appears at the beginning of your form to collect email addresses from any domain.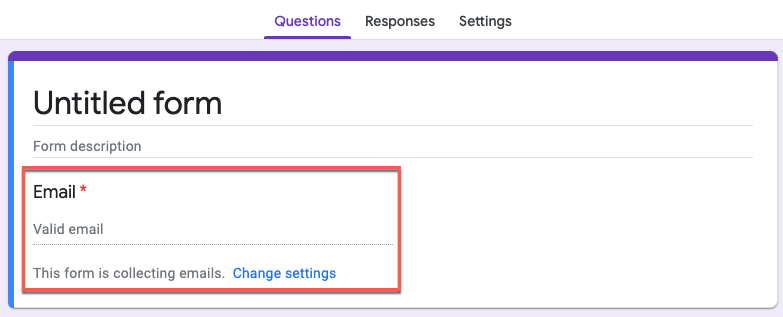 When the form is opened, each form respondent sees a message at the top of the form saying that their email address will be recorded when they submit the form.

Related articles