Find out about the latest releases of Form Publisher in 2022!
May 9th
Bug fix
In this release, we fixed the following issues:
Fail loading the Status & Quota screen if Form Publisher cannot retrieve data about Destination folder (none set or if you do not have permissions to access it).
Fail loading the Personalize email notifications window if there are no recipients in the Sharing list in the Sharing Options and Notifications screen.
May 5th
Bug fix
We fixed links issues in the Settings summary screen where each element was a clickable link that redirected you to a blank page.

April 26th
Bug fix
You should no longer experience error messages when canceling Paypal auto-renewals via the web app.
April 20th
Add-on
We added a tooltip explaining the result of disabling the Form Publisher Status under the Form status and account info screen.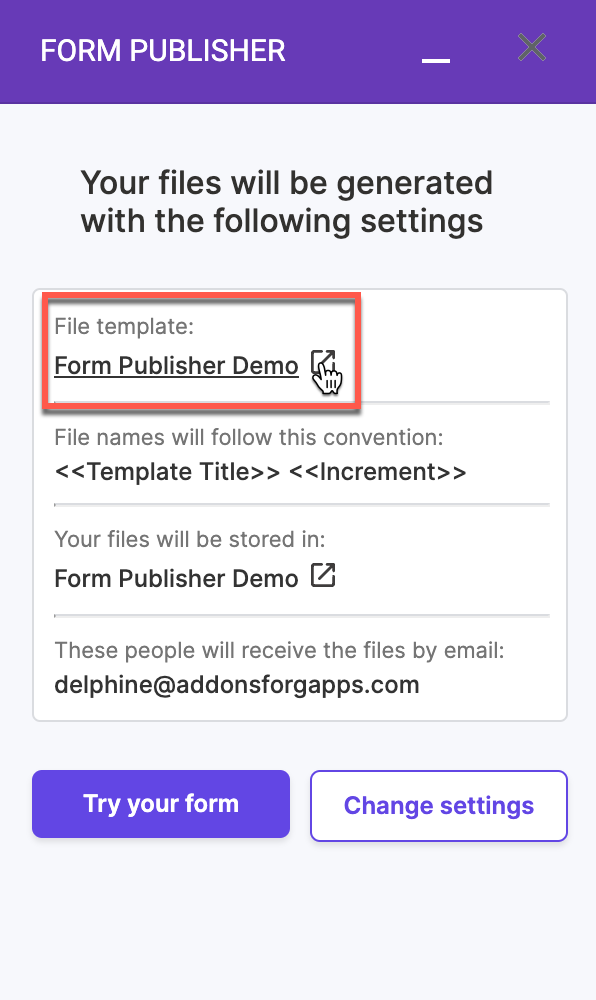 Bug fix
We solved an issue that prevents the Form Publisher add-on for Google Sheets from working when you open it for the first time in a brand new spreadsheet (empty spreadsheet, without even a title).
April 19th
Add-on
In this release, we updated links in each screen help tooltip. They are now pointing to the many updated articles.
We also added a numeric representation of steps during the installation flow. Now, you will see how many steps there are and how many were done.
April 14th
Add-on
In this release, we added a tooltip explaining why Form respondent is greyed out when Approval Workflow is enabled.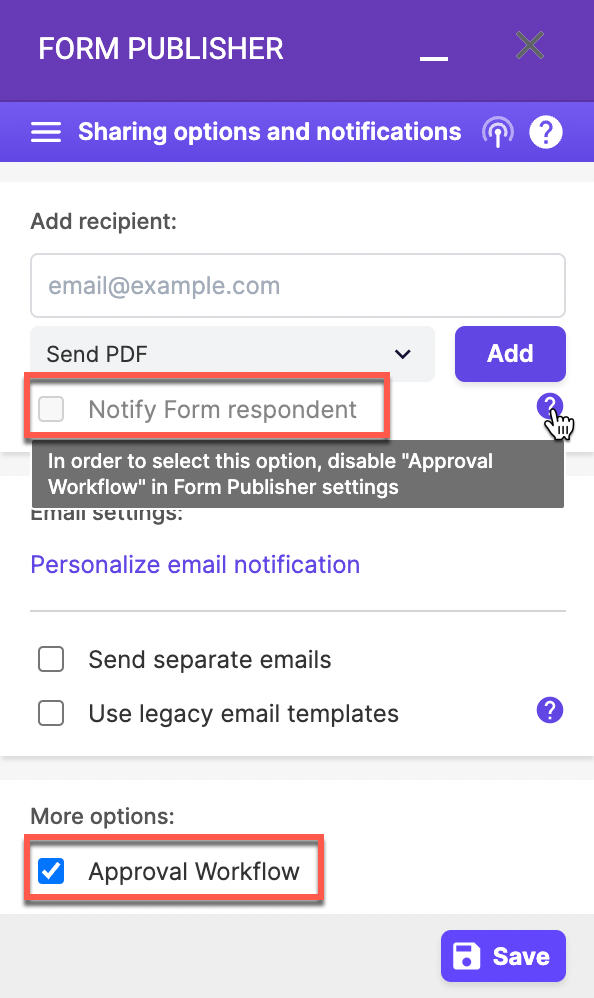 We also added dynamic installation steps to explain what the add-on is currently doing when you are configuring it.
April 7th
Announcement
We are happy to announce that Form Publisher has a brand new look! 🎉 This release includes a new installation flow, this fresh UI is more intuitive and straightforward. If you need, feel free to check the documentation that is also completely updated.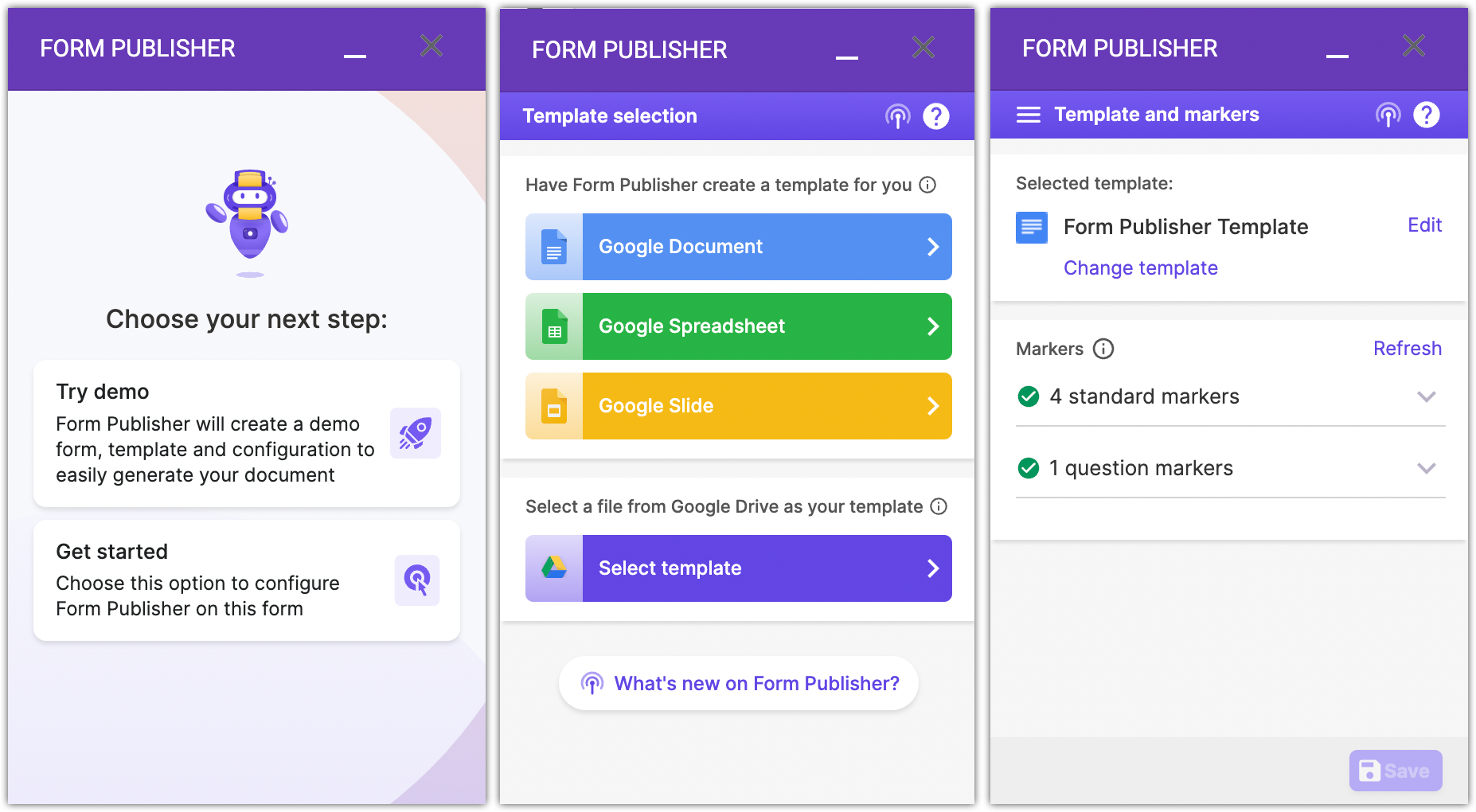 March 24th
Bug fix
With this release, a duplicate icon now appears next to the duplicate question titles under the Matching markers dropdown (no matter if your question is a date, time, file upload question, and so on).

March 3rd
Bug fix
Filtering on date and time in Google Sheets now works better across all timezones.
February 15th
Bug fix
When the Collect email addresses option is disabled in Google Forms and the form contains an Email address question that is not filled properly by the respondents, Form Publisher was not generating documents. This issue is now fixed.
February 9th
Announcement
We now provide an ISO certificate that is accessible at the bottom page of the Form Publisher website.

February 7th
Google Sheets add-on
We fixed behavior in the add-on which now warns you that it is not possible to filter empty Google sheets.



We solved an issue that didn't allow you to change the destination folder after the initial setup.
February 3rd
Bug fix
If you cancelled the auto-renewal of your Form Publisher plan, you can now go to Stripe from the Billing page and renew your plan. We're no longer redirecting you to the Pricing page.
January 27th
Improvement
With this release, if you log in with the wrong account on the approval page, the error message will tell you which account is active and which account is expected for approval.
Bug fix
In the new version of the web app, the Manage plan button is no longer displayed if you are not the owner of a Business plan.
January 17th
Bug fix
We fixed an issue for the Form Publisher for Google Sheets add-on where filtering Dates and time was not working properly.

We fixed an issue which prevented Form Publisher from showing a new error message when trying to select a Google Sheets template that contains a chart imported via the

Move to own sheet

option.

We fixed an issue which caused Form Publisher to add markers randomly in the Sharing list in some rare instances.