With the Google form for leave requests and the template document in place, you can start configuring Form Publisher to generate your first document.
Procedure
Open the Google form for leave requests you saved.

Start Form Publisher.

Click Add-ons

and select

Form Publisher.



info If the Form Publisher pop-up window does not show the Get started option, close it and try again by selecting Add-ons and then Form Publisher again.
If Get started is still not available, refresh the web page in your browser, wait for the entire contents of the page to load, and then try again.

Click Get started.


Configure Form Publisher to use the leave request document template.

Click Select template.


In the Google Picker window, find the leave request template and click Select.

Wait for Form Publisher to finish the configuration.

Result
Form Publisher is now configured with the selected leave request template and shows a summary of the default configuration.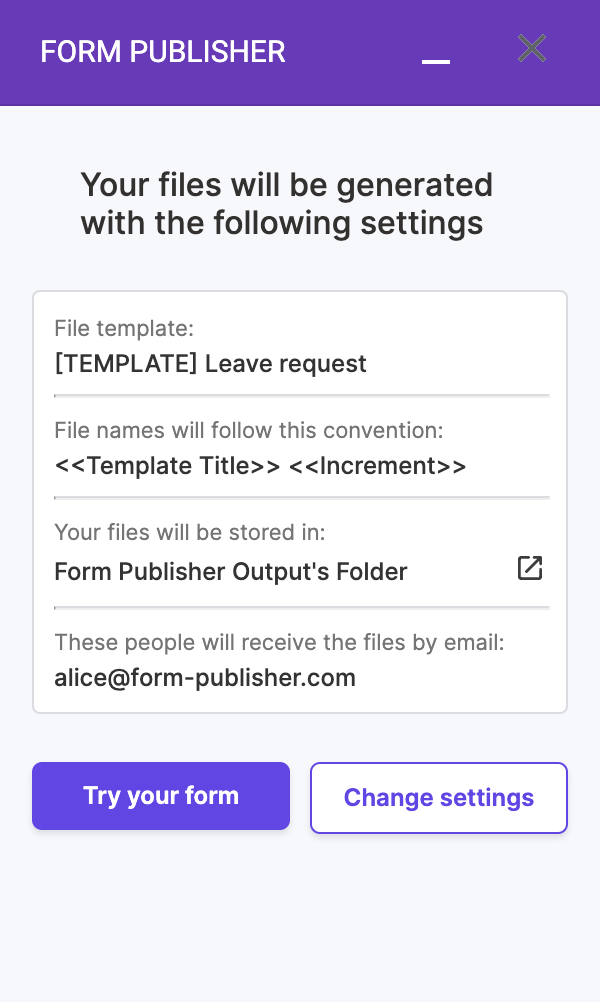 You can review the complete list of default configurations in the table below.
Configuration parameter
Default configuration values

Output folder in Google Drive

My Drive > Form Publisher Output's Folder

Output document formats
Form responses sheet location in Google Drive

My Drive > [TEMPLATE] Leave request responses (Responses)

info This is the default file name assuming that you do not rename the name of the template form.

Default columns added by Form Publisher to the responses sheet

[Form Publisher] PDF URL

[Form Publisher] Increment

[Form Publisher] Doc URL

[Form Publisher] Edit URL


Default recipients of the generated documents

Email address of the user that created the form
What's next
Generate a test document with Form Publisher.
To change the configuration, click Change settings in the configuration summary screen.