With Form Publisher, you can send email notifications with the generated documents to the form respondents.
info
If you are using the
Approval Workflow
option and want to send a generated document to your form respondents, the procedure is different. Refer to this article:
Add respondents as approvers
Prerequisites
You must have a Google form configured with Form Publisher.
Procedure
In the Google Form, click the Settings tab.



Expand the Responses section.


Under the Responses section, enable Collect email addresses.

A message appears at the top of your form confirming that Google Form will collect email addresses after each submission.

Note: By default, the form is restricted only to the recipients that are under the same domain organization. If you want to send the form to people outside your domain, you can deselect the Restrict to users… checkbox in the Google form settings.
Open the Sharing options and notifications menu and select the Notify Form respondent checkbox.

Form respondents are now added to the list. By default, Form Publisher sends a generated PDF file.

(Optional) You can change the file format to a Google Docs or a Microsoft Office file format.



Click

Save.

Result
Form respondents are now added to the Sharing list with the document format you specify.
If the respondent is in the Google domain of the form creator, and the Restrict to users in <domain> option is enabled, the form will automatically collect the respondents' email addresses and show the following message:



If the Restrict to users in <domain> option is not enabled or the form creator is not part of a Google domain, form respondents are required by the form to submit their email address in the Email question.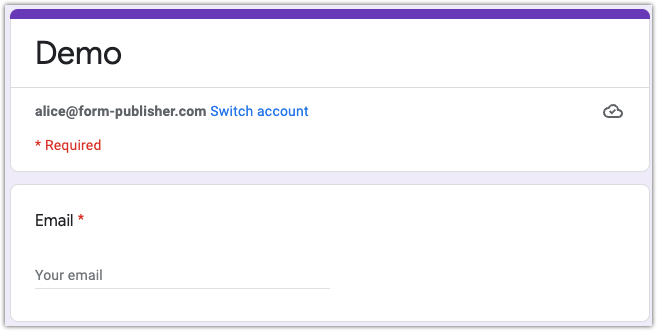 After each form submission, Form Publisher generates the document format selected for form respondents and sends it as a link (if the format is one of the Google Docs document types) or as an attachment (if the format is PDF or a Microsoft Office document type).