If you have a checkbox question in your Google Form, Form Publisher lets you choose how to separate the different options in your template if the respondent ticked multiple answers.
Choose your separator formats for checkbox questions
When you open the Template configuration sidebar, you will notice different separators for the checkbox marker/item.
For example, if you're using a template from Google Sheets, these options will be displayed as follows: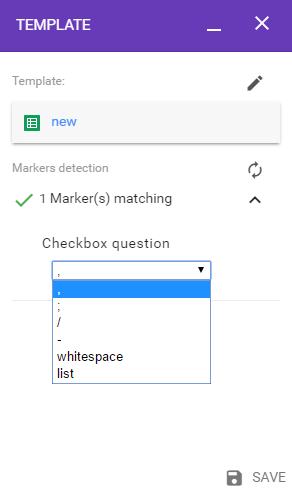 More separator formats (like the numbered and bulleted list) are available for Google Docs templates:
Just select the format that you want to separate answers from checkboxes. The results are summarized in the table below.
Available standard separator formats for checkboxes
Separator Format


Result

,

Option 1, Option 2, Option 3

;

Option 1; Option 2; Option 3

/

Option 1 / Option 2 / Option 3

-

Option 1 - Option 2 - Option 3

whitespace

Option 1 Option 2 Option 3
list (Google Sheets template only)

- Option 1
- Option 2
- Option 3

Numbered list (Google Docs template only)

Option 1
Option 2
Option 3

Bulleted list (Google Docs template only)

Option 1
Option 2
Option 3