To insert images in your generated files, all you need to do is add a File upload question to your Google form and select the Insert as image option from the Template and markers Form Publisher menu. Form respondents can upload only one file per File upload question.
In this example, we show how to create a profile document, including an ID photo.
info
If you are using a Google Doc template:
You can have more than one Image markers
You can only have one image per table cell. If you add multiple markers into the same table cell, only links will appear
Prerequisites
Add questions to your Google form
You can make a copy of our Google form template.
Procedure
Open a Google form.

Add questions to your Google form.

To configure a question to accept uploaded images, click the three-dot button and select File upload.

A Let respondents upload files to Drive message appears.
Click Continue.
Select the Image checkbox.


Result
Your Google form is now configured so that respondents can upload photos when they submit their response.
What's next?
You can now create the document template which Form Publisher will use to generate documents from each submitted response.
Create your Google Docs template
We show an example of a Google Docs template which can act as an employee profile containing the form respondent ID photo.
Procedure
Open a new Google Docs template.
Add the markers corresponding to the questions of your Google form. For example:
<<First and Last Name>>
<<Employment Date>>
<<Job Title>>
<<Email address>>
<<Department>>
<<Office Location>>
<<Manager>>
<<ID Photo>>

Result
The Google Docs template is ready.
What's next?
You can now configure Form Publisher to use the employee profile template.
Configure and submit Form Publisher with the Google Docs template
With the employee profile template ready, you can now configure Form Publisher to use it for the generation of the documents on each response.
Prerequisites
Before you start the procedure, you must open Form Publisher and click Get Started.
Procedure
In the pop-up menu, click Get started.

Click Select template to select the Google Docs file from Google Drive as a template.

In the Google Picker, navigate to the file in Google Drive and click Select.

The summary of the Form Publisher configuration appears.


Click

Change settings.

Select the Template and markers screen.

Click marker with warnings.

Select Insert as image under ID Photo and click Save.


Form Publisher is now configured with a template that can accept images uploaded during the submission of the form response.


Submit the form.
Result
The Google Docs is generated with the uploaded image.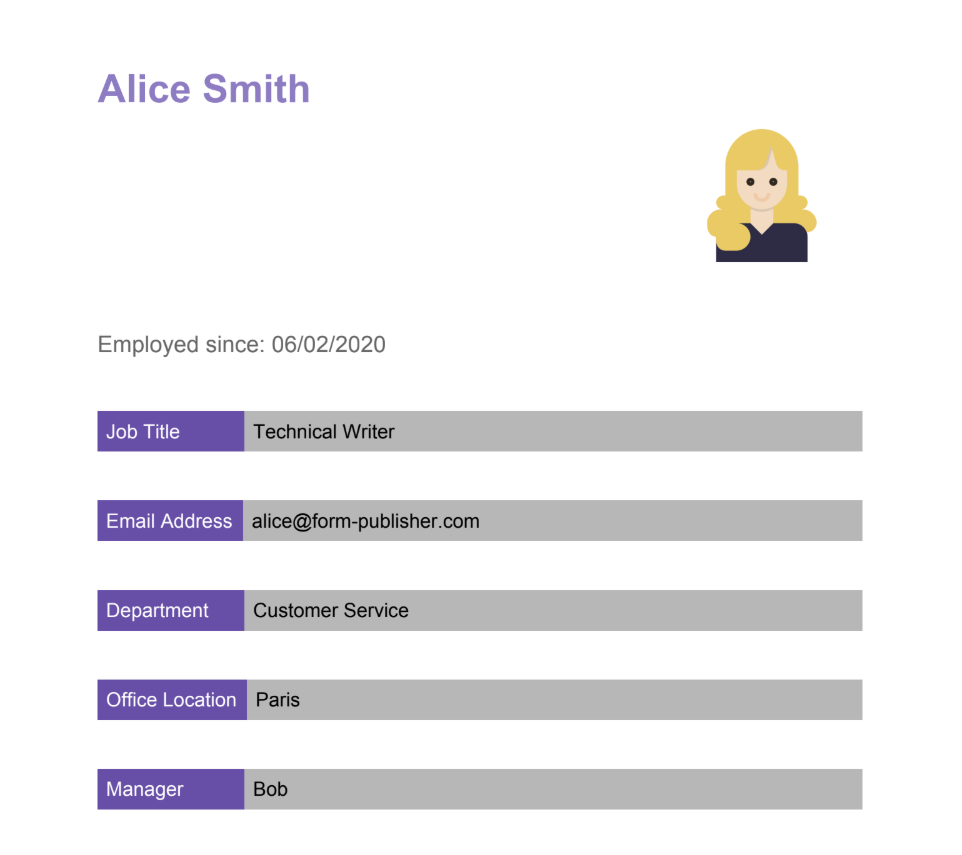 info All the uploaded images will automatically appear on a new folder in your Drive.