This article is the last step of Form Publisher settings. You will learn how to share your generated files to your recipients.
In this part, you can choose to share the submitted files to one or multiple recipients depending on your use case.
Create your list of recipients
By default, your email address is added to the Sharing list and Send PDF is selected.
Then, click Send PDF. Since your template is already saved in your Google Drive, you already have the view and comment access. You can choose between:
Send PDF
Can edit
Send excel (Word in case of a Google doc template and PPT in case of a Google slide template)
If you don't want to be notified, click Remove.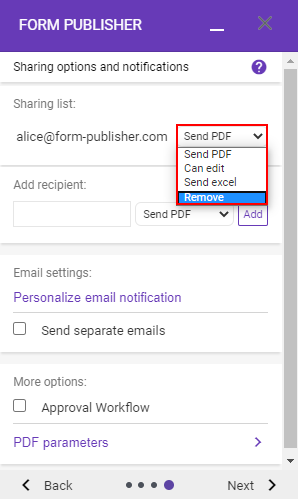 Finally, you can add as many recipients as you want.
Under Add recipient, write the email address of your recipient, select the option you want and click Add.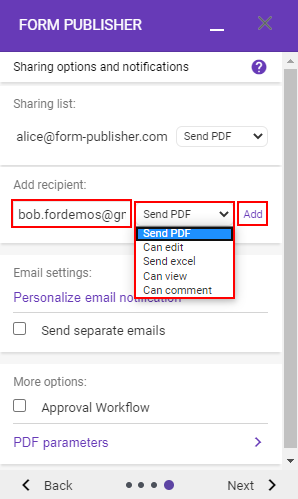 Select one of these possibilities:
Send PDF
Can edit
Send excel
Can view
Can comment
Personalize your email notification
Once you have created your recipient list, you can personalize your email depending on your configuration. Click Personalize email notification.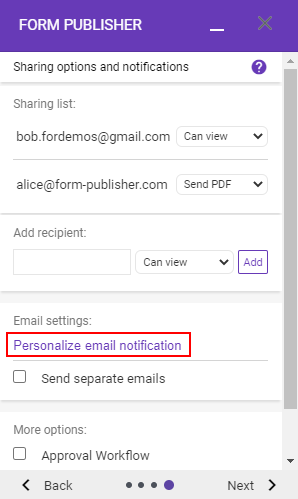 A pop-up appears.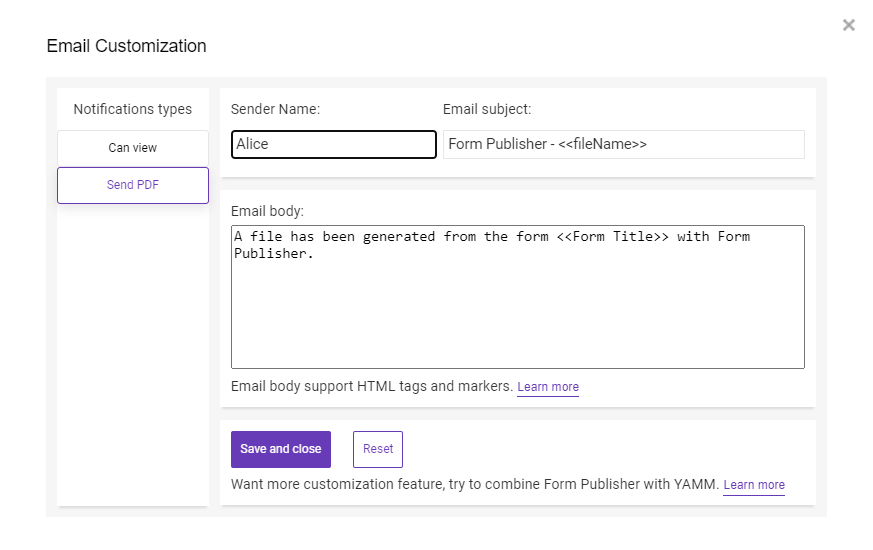 Sender name
You can personalize the Sender Name depending on the generated file. By default, Form Publisher writes the First name and Last name from your Google account. If it can find it, Form Publisher will recover the Username of your email address.
For example, bob.smith@example.com will become Bob Smith.
Email subject
The email subject is defined by the <<fileName>> marker which is the combination of the markers used for your file title: <<Template Title>> <<Increment>> equals <<fileName>>.
Email body
Form Publisher writes a predefined email by default. You can personalize it as you want with different markers.
To know more about this option, read the following article: Personalize email notifications to responders.
Once you have personalized your email's content, click Save and close.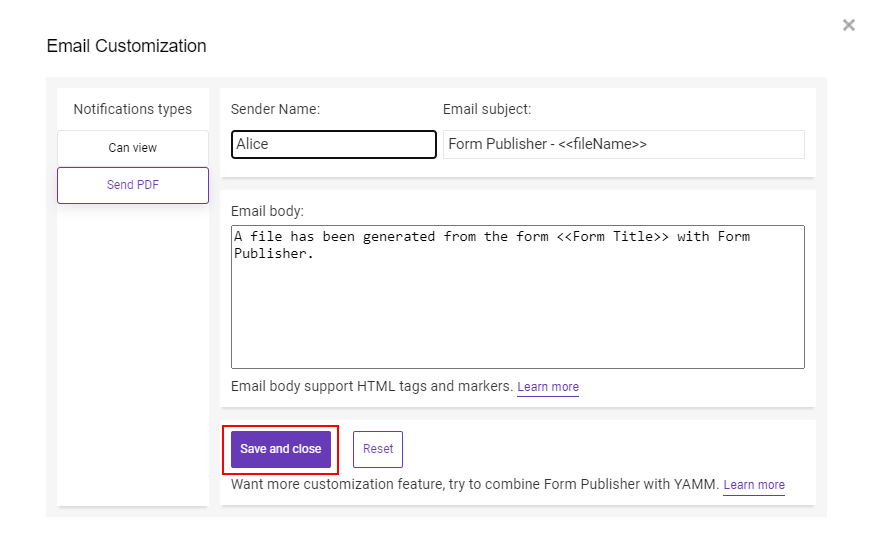 Send separate emails
info This option is available only if you want your recipients to receive the same delivery format.
In our first example, we selected Send PDF for both recipients, and we didn't choose the Send separate emails option.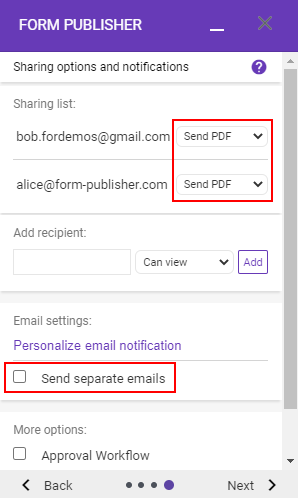 When someone fills out the form, the same email is sent to each recipient.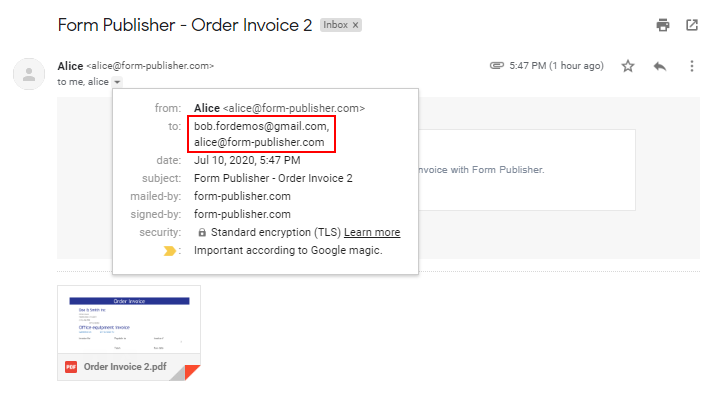 In our second example, we selected the Send separate emails option.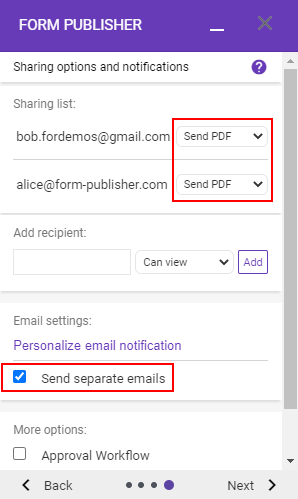 Each email is sent separately so your recipient can't see the other recipients' email addresses.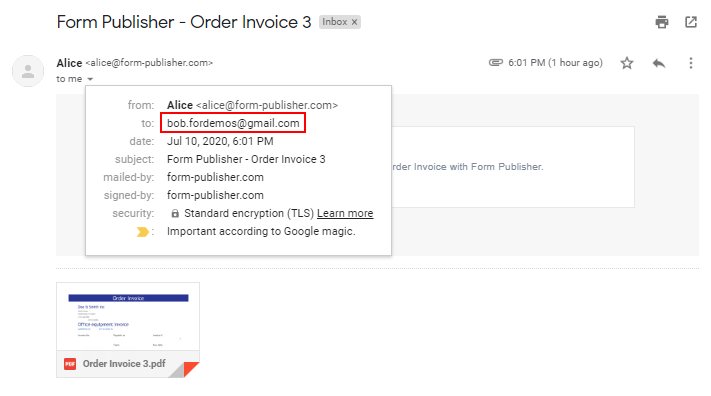 Use Approval Workflow (optional)
You can choose to activate the Approval Workflow option or not. To know more about this option and how to use it, we suggest you read our articles: Introduction to Approval Workflow / [Part 1] Set up an approval workflow on Google Form.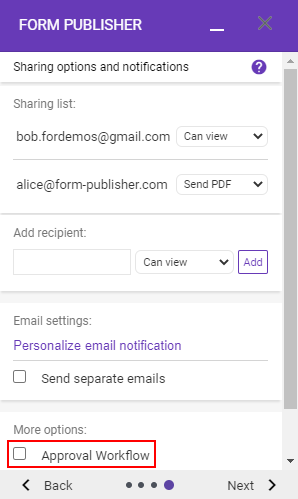 Once you are done with all the Form Publisher settings, click Next.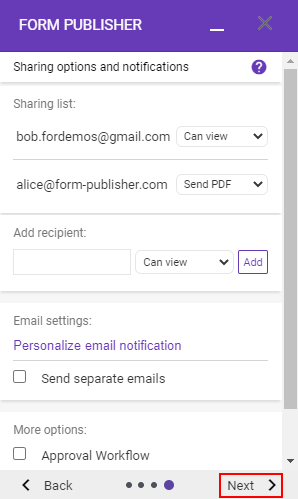 The message Your form is ready appears. To test Form Publisher, click Try form.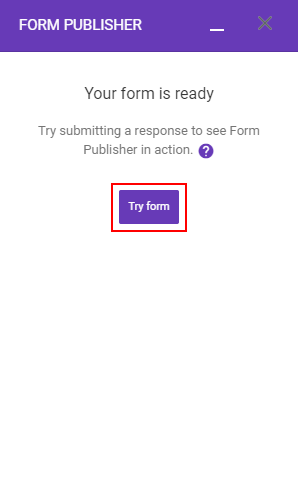 Personalize your PDF parameters (optional)