This article explains the different steps of a leave request validation workflow, from the employee submitting the form to the approval or rejection of the request by the HR.
Approve or reject a leave request
timer 10 min.
stars Goals
Set up a validation workflow for leave requests
Validate or reject the leave requests
Monitor the validation statuses of each request
check_circle Prerequisites
mode_edit Running a simple example
An employee sends a leave request via a Google Form to you as an HR
Your HR department will review the request (or generated file) to validate or reject it, or ask for more information
How does the leave request validation work?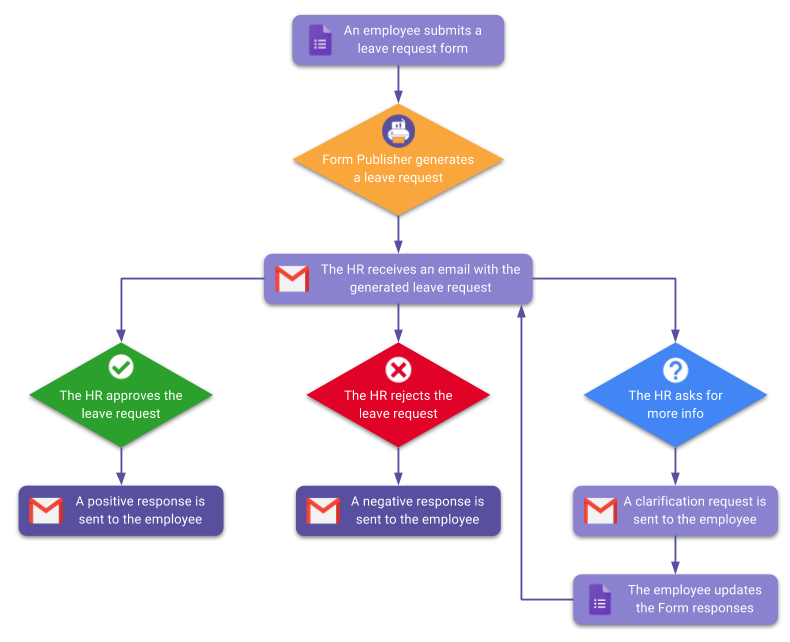 1. An employee answers a Google Form to submit a leave request
See the image in full view
2. You (as an HR) receive an email to accept or reject the request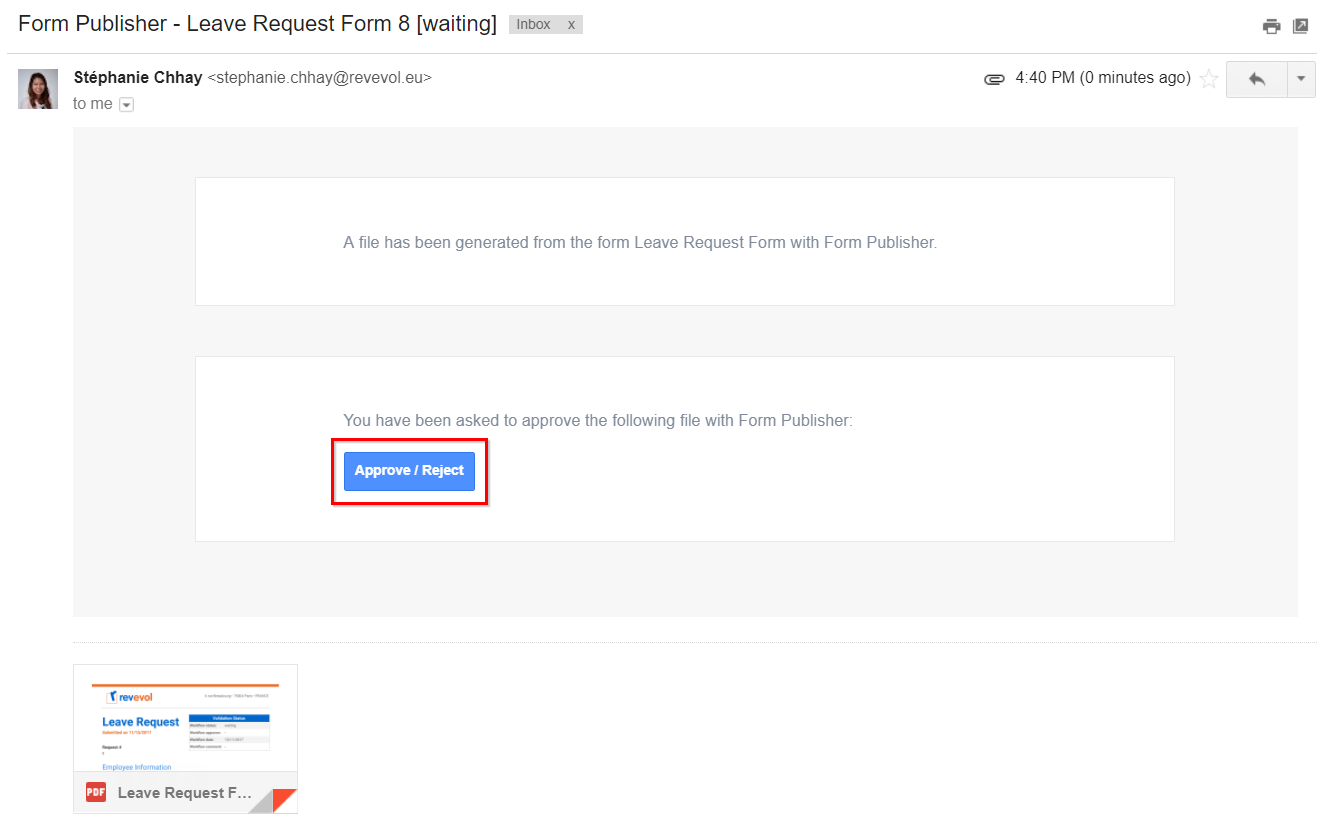 In your responses spreadsheet, the 'PENDING' status lets you know that a validation is requested.

3. You approve the leave request
From the email you received, click 'Approve':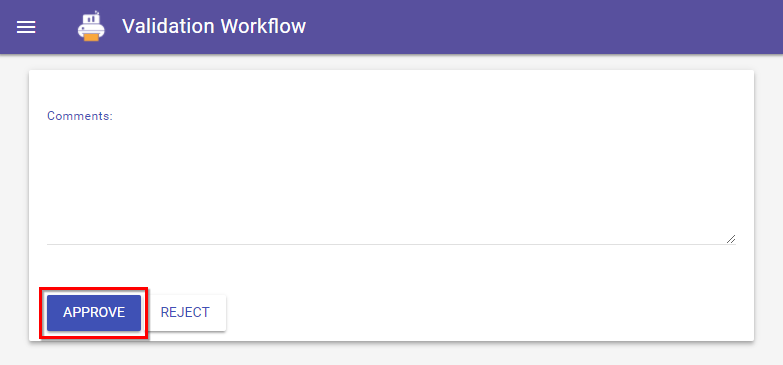 Your employee will then be notified by email: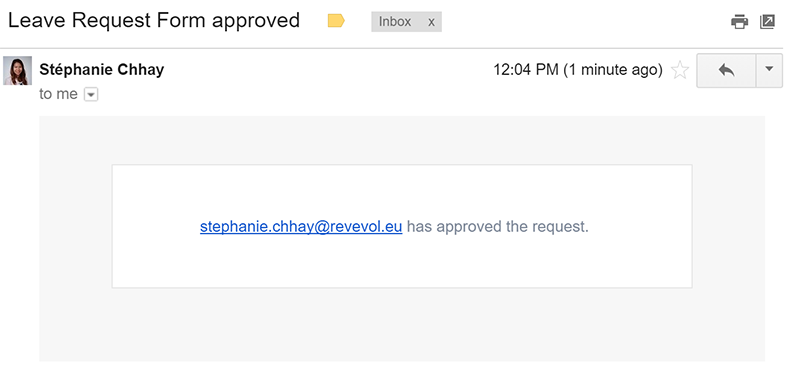 The [Form Publisher] Validation status from your responses spreadsheet will turn from 'PENDING' into 'APPROVED':

If you open the generated file (under [Form Publisher] Sheet URL), the validation status will automatically update accordingly:

4. You reject the leave request
If you decide to reject a leave request, the process will be exactly the same as for the approval. The main difference is that all 'APPROVED' will be replaced by 'REJECTED'.
5. You request further information on the leave request
This option is useful if you need further information from your employee before making your decision.
From the email you received, insert your comment, then click 'Request information':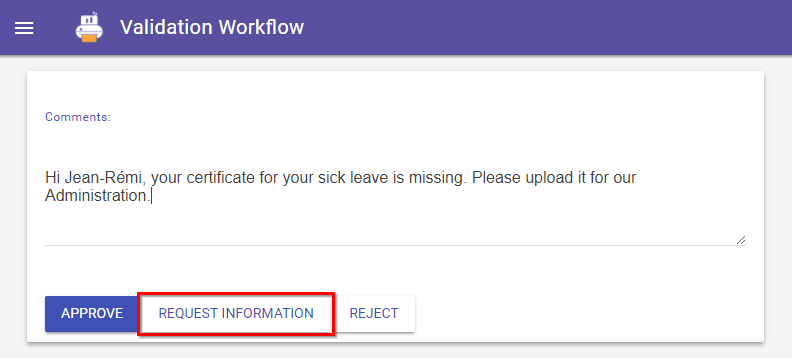 'FEEDBACK REQUESTED' will appear the validation status of your responses spreadsheet:

Your employee will receive the following notification with your comment (if you have added), where he can edit his form to update his answers: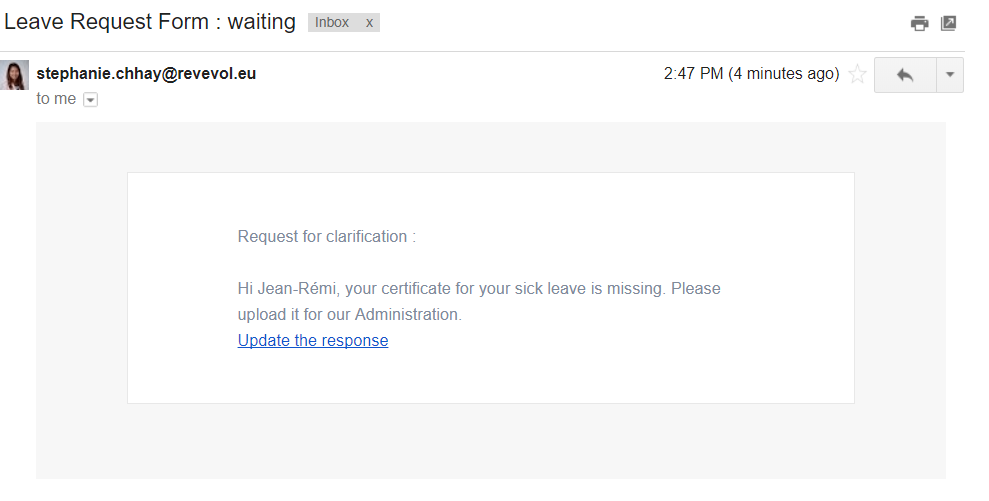 If you are satisfied with the new generated file, you can accept or reject the updated leave request (see 4. Approve the leave request and 5. Reject the leave request), and also add a final comment: