Sometimes, when you try to use an add-on, only the Help option is available. This article explains how to access the add-on.
When you open a Google Form, wait around 5 seconds to make sure your document is fully loaded before using the add-on. Otherwise, you only see Help button in the menu.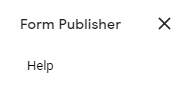 If you want to use Form Publisher, refresh the page few times until the menu appears.